Machine Learning Laboratory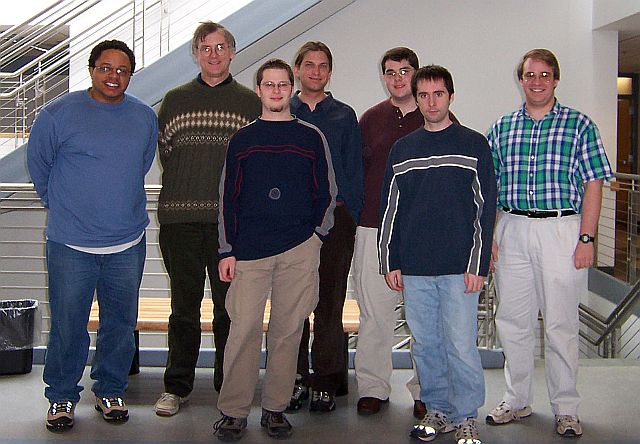 Due to the death of Professor Paul Utgoff in 2008, this Machine Learning Laboratory is no longer operating. To learn about other machine learning labs/research within the department, go to: http://www.cs.umass.edu/faculty/machine-learning.
Overview
In the UMass Machine Learning Laboratory (directed by Prof. Utgoff), we study computational methods that enable machines to learn from instruction. Our project areas are described below.
The machine learning laboratory is located on the third floor of our new Computer Science building at the University of Massachusetts at Amherst. We have a weekly lab meeting at lunch time on Tuesdays, 11:45-12:45. The topic is usually either a lab member's current research, or a paper that has been distributed ahead of time for discussion. Anyone is welcome to attend.
Current Students
Stephen Murtagh (6th year Ph.D. student)
Phillip Kirlin (5th year Ph.D. student)
Benjamin Teixeira (2nd year Ph.D. student)
Ph.D. Graduates
Gary Holness (Summer 2008), Researcher, Lockheed Martin.
David Stracuzzi (Summer 2006), Senior Member of Technical Staff, Sandia National Laboratories.
Jeffery Clouse (Fall 1996), Research Scientist, Lucent Technologies.
Carla Brodley (Summer 1994), Tufts University.
Tom Fawcett (Spring 1993), Research Scientist, Hewlett-Packard Laboratories.
Jamie Callan (Winter 1993), Associate Professor, Carnegie-Mellon University.
Sharad Saxena (Summer 1991), Senior Member Technical Staff, Texas Instruments.
M.S. Graduates
Manuel Nickschas (Summer 2005)
Laylaa Ali (Summer 2004)
Richard Cochran (Fall 2002)
Nathan Sitkoff (Spring 1998)
Achim Baumgartner (Spring 1996)
Neil Berkman (Spring 1995)
Anton Leouski (Spring 1995)
John Devadoss (Spring 1994)
Ben Hurwitz (Spring 1993)
Gila Rochwerger (Winter 1993)
Bernd Welz (Fall 1989)
Victor Coleman (Spring 1989)
Peter Heitman (Fall 1987)
Margaret Connell (Fall 1986)
---
Last Updated: February 6, 2007
© Copyright 2007, All Rights Reserved, Paul Utgoff, University of Massachusetts